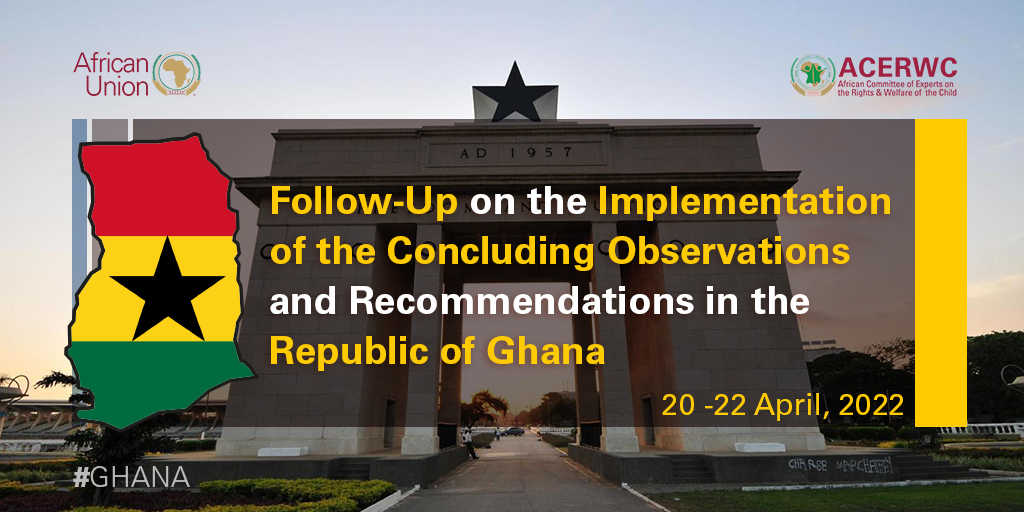 Following the consideration of Ghana Initial Report on the implementation of the ACRWC in 2016 during its 28th Ordinary Session held in Banjul, Gambia, the Committee held a constructive dialogue with the Delegation of the Government of Ghana and identified achievements recorded and challenges faced in the implementation of the Charter. Afterwards, the Committee issued its concluding observations in 2017 and recommendations, which include its suggestions on the measures that may be undertaken by the Government of Ghana to improve the protection and promotion of
children's rights in the State Party.
According to its Rules of Procedure,  the Committee undertakes field visit to follow-up on its recommendations on State Party reports. Undertaking a mission to monitor the implementation of its recommendations is  in line with article 45(1) of the Charter, which gives the Committee the mandate to undertake investigative missions on matters and issues falling within the scope of the Charter. In accordance with these rules and its mandate, the Committee intends to undertake a follow-up mission in the Republic of Ghana to assess the implementation of its recommendations provided for the Government of Ghana on its initial State Party report.
The Committee will engage both the government and other stakeholders involved in the protection of child rights in the country, to discuss about the progress and challenges in the implementation of the recommendations of the Charter.
Download the Terms of Reference of the ACERWC Follow Up Mission on Concluding Observations and Recommendations in Ghana and Programme FollowUp Mission on Concluding Observations and Recommendations_Ghana of the Follow Up Mission.